Serious Sam HD: The Second Encounter – NO STEAM (PC GAME – Multi8 Spanish)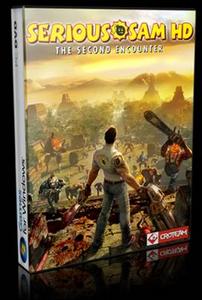 DATOS TÉCNICOS
Serious Sam HD: The Second Encounter PC GAME
ISO | DVD | Desarrollador: Croteam | Distribuidor: Devolver Digital | Idioma: Multi8 Español | Numero de jugadores: 1 | Genero: Accion, Shooter, 3D, 1ra persona | Plataformas: XBOX360/PC | Fecha de lanzamiento: 2010 | 2.03GB | Medicina: Team THETA (automedicado) | NFO
DESCRIPCIÓN
La gloriosa de alta definición (HD) el caos continúa en Serious Sam HD: The Second Encounter, la acción arcade muy esperado FPS secuela del HD Serious Sam: El Primer Encuentro.
Desarrollado por Croteam y accionado por el motor de graves 3, Serious Sam HD: The Second Encounter combina espectacularmente mejorados gráficos, incluyendo más polígonos, texturas de mayor resolución y más efectos especiales, como el modo de hippies y los niños, con una jugabilidad frenética marca para una acción non-stop . Con un solo juego, la supervivencia y el juego cooperativo y se mezclan con imágenes brillantes actualización, el juego continúa su batalla contra el ejército Mentales con la acción clásica en el de arriba, el humor loco y el horror de la época dorada de los shooters en primera persona.
Combinado con intensos modos Versus y equipo para hasta 16 jugadores y en más de 18 mapas multijugador, opción de grabación de demostración, los espectadores y soporte de servidor dedicado, Serious Sam HD: The Second Encounter es un digno sucesor de la obra maestra original.
CARACTERÍSTICAS
El shooter en primera persona en HD – Una cualidad completamente nueva.
Increíbles carnicerías hilarantes – En las ruinas, en la selva, los templos de Oriente y la extensión de la Europa medieval.
Varios ambientes y Secretos – Dé rienda suelta a Mayhem en tres diferentes mundos espectaculares: América del Sur, la antigua Mesopotamia y la Europa medieval.
Descubre más de 130 secretos – Entre ellos más de los 15 nuevo oculto en la refriega.
Únicos enemigos y jefes – Lucha con 27 guerreros en el ejército de pesadilla mental, incluyendo los viejos favoritos desde el primer encuentro como decapitado Kamikaze, Siria Werebull y Skeleton Kleer. Ir cabeza a cabeza contra cinco nuevos enemigos y 3 nuevos jefes.
Especial de Armas y el Poder-Ups – Causa estragos con un enorme arsenal de armas, incluyendo tres nuevos juguetes: el rifle de francotirador, lanzallamas y motosierra. El uso power-ups para aumentar, además, su lucha y habilidades de agilidad.
REQUERIMIENTOS
OS: WINDOWS XP W/SP1 OR NEWER
PROCESSOR: INTEL PENTIUM APRIL 3 + GHZ OR AMD ATHLON64 3500 +
MEMORY: 1 GB
GRAPHICS: NVIDIA GEFORCE 7600, ATI RADEON X1600 (SHADER MODEL 3.0 HIGHLY RECOMMENDED)
DIRECTX ®: DIRECTX 9.0C AUGUST 2009 EDITION OR NEWER
DISK SPACE: 3 GB
NOTA: PARA PASAR EL JUEGO A ESPAÑOL IR AL SIGUIENTE DIRECTORIO:
C:\ARCHIVOS DE PROGRAMA\SERIOUS SAM HD THE SECOND ENCOUNTER\BIN
Y ABRIR EL ARCHIVO GAMELANGUAGE.TXT Y BORRAR ENGLISH Y PONER SPANISH
CAPTURAS
links intercambiables:
http://www.fileserve.com/file/u6nyEJD
http://www.fileserve.com/file/dym89Tg
http://www.fileserve.com/file/R8nzYqp
http://www.fileserve.com/file/DccX74q
http://www.fileserve.com/file/J5dSjnC
http://www.fileserve.com/file/6JNa7EP
http://www.fileserve.com/file/6MajW96
http://www.fileserve.com/file/m2jRZm4
http://www.fileserve.com/file/GDBhUDA
o
http://depositfiles.com/files/id4quiwx2
http://depositfiles.com/files/a9572jvdm
http://depositfiles.com/files/io1zwupmr
http://depositfiles.com/files/fmuwqg9kg
http://depositfiles.com/files/nz5u86k9c
http://depositfiles.com/files/zkqxlq4tu
http://depositfiles.com/files/fkztnok37
http://depositfiles.com/files/7yjxokyfk
http://depositfiles.com/files/cz2ag69cn
o
http://netload.in/dateiLfjV7NwRg1/Se...part01.rar.htm
http://netload.in/dateibhXdXS6NGA/Se...part02.rar.htm
http://netload.in/dateiw6hwaxVmfW/Se...part03.rar.htm
http://netload.in/dateiq4pbSdwrJt/Se...part04.rar.htm
http://netload.in/datei6LERSNjqDt/Se...part05.rar.htm
http://netload.in/dateioHQQAUcyBa/Se...part06.rar.htm
http://netload.in/dateiNwwDRwaqio/Se...part07.rar.htm
http://netload.in/dateifHzGuUREiB/Se...part08.rar.htm
http://netload.in/dateivIEu81SlNw/Se...part09.rar.htm